Specialist Contractor Accounting Services – Limited Company Setup with No Startup Costs

IMS understand contracting, with a 12 year track record of advice and solutions. Our financial services are designed to work for contractors, with specialist consultation, no upfront fees and our commitment to ensuring your contracts run without any financial worries.
Specialist contractor accountants
12 year track record
Free consultation
No startup costs
Fast limited company incorporation
Speak to our team about setting up a limited company:

0203 2911 467
Your privacy and personal data
To assist with your Accounting Services Enquiry please note we need your consent to store and process your 'Personal Data' and need your consent to do so. Please read our Privacy Policy and Statement linked here on our website. 'Personal Data' means identifiable information about you, like your name, email, address, telephone number, bank account details, payment information, support queries, community comments, in addition to any personal data which we have a contractual or legal need to store and process in order to deliver our services to you.
IMS – part of the Workr Family
IMS are part of the Workr Family.
The traditional 9 to 5 employment model is not suitable for everyone and we know people require greater flexibility in how they work.
Whatever your working solution, freelancer or contractor; wherever you are in the world, Workr Group can support you.

Call
0203 2911 467

for Limited Company services

All the company's requirements and shareholders' tax returns, as listed below in the services and fees guide section, are serviced for a weekly fee of £35 plus VAT*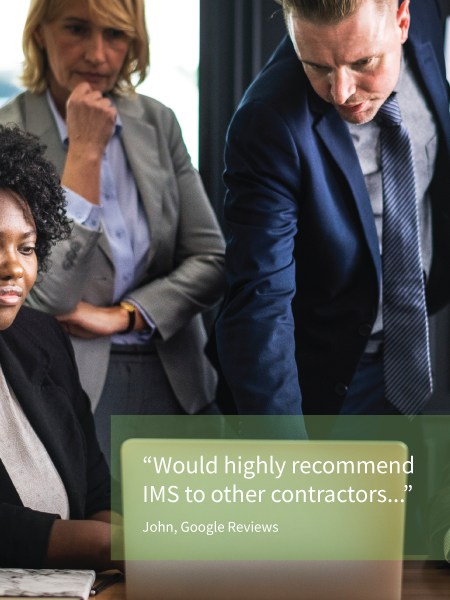 * This fee is based on an individual operating as a sole director, shareholder and employee of the company. For additional accounting or payroll requirements please contact us for more information.
Get specialist accounting services for contractors.
You're in safe hands at IMS. We're an established firm with specialist experience.

We meet new clients face-to-face whenever possible. This is an important part of our mentoring approach. We take the personal approach to ensure you understand all your options.
We have a dedicated team of Tax and Account Managers who work solely to support your company.
For over 10 years we have relied heavily on good reputation and word-of-mouth to build our client base.
Testimonials
"Easy to use with very friendly and knowledgeable tax management team. I would highly recommend to anyone looking for help with taxes in conjunction with contracting."
– Nick, Trustpilot Review
"Very user friendly and talked me through the whole process of setting up my limited company. They have great customer service and very efficient at replying to any concerns that I had via email or phone. I would recommend IMS to anyone wanting to set up their own company."
– Zoe, Google Review
"Always so polite and just an amazing group of people that really help you."
– Sole Synergy, Google Review
Company portal included
In addition to support from the team, you get Your Company Portal when you register with IMS.
Simply go to yourcompanyportal.com for 24/7 access to all your company details. You can log time worked, save company information, check pay information and review any of the resulting documents.
The system is oriented around a simple dashboard and can be accessed on all up-to-date computers and devices.
Get free mentoring
Our mentoring approach will help you understand your working options. These are the steps that the IMS team will lead you through when you contact us for mentoring.
If you are unsure how we as accountants can help you make your income smarter, work through our 3 step mentoring process to see how you could benefit. This process will enable you to make the appropriate choices so that your business, contracting, freelancing or employment activities will be compliant, tax efficient and financially rewarding.
Navigate through the 3 steps. You may wish to work through the steps with one of our IMS mentors who will help you learn about the business environment in which you choose to operate. Once you have worked through the last step you will be in a position to make a choice that is most suited to your circumstances and requirements.
Call 0203 2911 467, email Call 0203 2911 467, email mentoring@imsaccounting.co.uk or submit our Contact Form for a call back.
We support your choices by offering a full range of services and those of other service providers to help you implement your decision. If you know which service you require, navigate directly to services and complete the Quick Contact forms and we will contact you immediately to get started.
This first step is about you clarifying your working and business circumstances and what you hope to achieve from your activities. This requires gathering information about you, including how you currently generate your income and identifying your business goals.
To get started, you may find it helpful to answer the following questions to guide you.
Am I setting up a business or freelancing or seeking employment?
Am I concerned about limiting my liability, such as, in respect of negligence or public liability? (Info Centre: Ltd, LLP)
Do I want to be my own boss? (Info Centre: Ltd, LLP, Sole Trader)
Do I fall within or outside IR35?
Will I freelance in the Construction Industry?
How much income am I expecting to generate? (Info Centre: Tax Rates and Allowances, Personal Tax)
Will I contract from home or my own premises or clients premises? (Info Centre: Umbrella Companies)
How long will contracts endure? (Info Centre: Umbrella Companies)
How do I ensure that I am compliant? (Info Centre: IR35, Ltd, LLP, Partnerships, CIS)
What am I not considering?
You may wish to complete this step by speaking to an IMS mentor. This can be done over the phone, via e-mail or face to face.
The second step is about us informing you or pointing out sources of information so that you can inform yourself about the legal, compliance and tax matters affecting each activity. Go to our Information Centre and Services pages to browse the information under each section that you may be interested in.
Running Your Own Business
Limited Company
Sole Trader
Partnership
Limited Liability Partnership
Contracting
Employment
CIS
Construction Industry Scheme
The third step of the IMS Process is about making an informed decision that suits your circumstances and requirements. Depending on your evaluation of the information gathered during Step 2, your choices include:
Running a Business as a Limited Company, Sole Trader, in a Partnership or a Limited Liability Partnership.
Contracting as an Agency worker or through an Umbrella company.
Carrying on your activities in employment.
Construction industry activities which can be in or out of a CIS scheme.
If you are still uncertain about the best and appropriate choice to make, review the information in Step 2 and contact an IMS mentor.
Call 0203 2911 467, email Call 0203 2911 467, email Call 0203 2911 467, email mentoring@imsaccounting.co.uk or submit our Contact Form for a call back.
Once you have made your decision we are able to support you in implementing your choice. We offer a full range of support services and those of other service providers to help you take action to implement your choice. For more, select from our Services menu above.